NHRA: Hall of Famer Bob Glidden passes away at age 73
NHRA legend Bob Glidden has passed away at age 73 on Sunday, after a championship and hall of fame career in drag racing.
The NHRA is peppered throughout its history with hall of fame caliber drivers, from funny cars to pro stock to top fuel. Bob Glidden is one of the best drag racers in the history of pro stock racing, winning multiple championships in the National Hot Rod Association. Sadly, Glidden passed away at age 73 on Sunday night, leaving behind an amazing career in drag racing.
Glidden began racing dragsters in the 1960s, and continued to do so through the 1990s. He would eventually come out of retirement to enter a handful of races in 2010. Throughout his career he was associated with Ford and the blue oval, almost exclusively racing in their vehicles.
He would eventually go on to work for Ford in their Cup Series engine development program in the late 1990s.
An inductee of both the International Motorsports Hall of Fame and the Motorsports Hall of Fame of America, Glidden has been frequently ranked as one of the top 50 best drag racers in NHRA history. He earned ten carer pro stock series championships and is third overall in professional wins in NHRA history. He only sits behind hall of famers John Force and Warren Johnson in terms of wins.
Outside of the NHRA, Glidden also raced in the International Hot Rod Association (IHRA) on a few occasions. He won several races in the series and also earned one IHRA championship. Glidden nearly was the first driver in the "doorslammer" category to reach 200 miles per hour in a race in Darlington, South Carolina, but fell short by 0.89 miles per hour.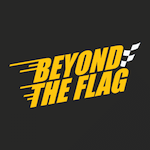 Want your voice heard? Join the Beyond The Flag team!
Write for us!
Comment below with your favorite memories of watching the legend Bob Glidden on the drag strip.