NASCAR Truck Series: Tyler Ankrum wins 2019 Rookie of the Year
Tyler Ankrum clinched the 2019 NASCAR Truck Series Rookie of the Year Award as the only rookie driver to make the playoffs this season.
Tyler Ankrum officially won the 2019 NASCAR Truck Series Rookie of the Year Award at Homestead-Miami Speedway. The 18-year-old finished his rookie season in eighth place in the championship standings with one win at Kentucky Speedway.
By virtue of being the only rookie to make the Truck Series playoffs this season, Ankrum clinched the award when the playoffs began. He bested fellow rookies Sheldon Creed, Harrison Burton, Tyler Dippel, Gus Dean, Natalie Decker and Anthony Alfredo, in respective finishing order, for the highest rookie honors.
"It's really nice because you're not walking away at the end of the season without anything," Ankrum said after the season finale. "We had a really great season I thought. I think it composed mostly of lows, but we were able to bounce back almost every single week. When we had highs, they were really, really highs. So, I'm really proud of my guys. I learned a lot this year."
Indeed it was a season of adversity for Ankrum. DGR-Crosley announced he would drive the #17 Toyota full-time once he turned 18 on Wednesday, March 6. Therefore, he was ineligible to compete at tracks larger than one mile in length until his 18th birthday. As a result, he missed the first three races of this season before competing in sixth consecutive races for the team.
Then he drove for NEMCO Motorsports in the races at Iowa Speedway and World Wide Technology Raceway at Gateway. But after funding appeared to dry up, Ankrum was forced to start and park the #87 Chevrolet in these two races.
Upon returning to the #17 Toyota, Ankrum surprised many and changed the outlook of his season. He won the Buckle Up in Your Truck 225 at Kentucky Speedway. With NASCAR having granted him a playoff waiver due to being underage and not having competed in every race, Ankrum was set to compete in the playoffs.
Ankrum remained with DGR-Crosley for the rest of the season. In the round of 8, he mustered only one top 10 finish, a ninth place finish, at Canadian Tire Motorsport Park. He took advantage of ThorSport Racing driver engine woes to advance to the round of 6.
In the round of 6, Ankrum was beset by bad luck. He finished in seventh place at Talladega Superspeedway, but a wreck at Martinsville Speedway forced him into practically a must-win situation at ISM Raceway.
Ankrum fought an ill-handling #17 Toyota early in the race, putting him into an unfavorable situation. His struggles compounded when he made contact with Grant Enfinger and subsequently fell one lap down as his DGR-Crosley team repaired his #17 Toyota.
Finally, his championship hopes were dashed when he fell a second lap off the pace right before the end of the first stage. Ankrum limped his #17 Toyota to a 26th place finish, six laps off the lead lap.
In the season finale at Homestead-Miami Speedway, Ankrum finished the first stage in eighth place, but the final race of 2019 became unkind to him. A flat tire forced him to pit road before it opened at the end of the second stage, causing him to go one lap down. He lost another lap and ultimately finished in 22nd.
In successive seasons, Ankrum won the K&N Pro Series East championship and the Truck Series Rookie of the Year Award. He is set to race full-time in 2020 for GMS Racing and is set to be a teammate to full-time drivers Creed and Brett Moffitt. Being a teammate with the 2018 Truck Series champion and the 2018 ARCA Menards Series champion should continue Ankrum's development.
"I'm pumped to work with my new teammates and hope I can bring something special to the team. I think we will win a lot of races and contend for the championship in 2020."
With high hopes for next year, Ankrum has built an impressive resume as he furthers his NASCAR career.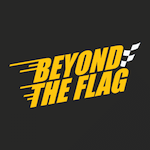 Want your voice heard? Join the Beyond The Flag team!
Write for us!
Congratulations to Tyler Ankrum on winning the 2019 NASCAR Truck Series Rookie of the Year Award. Furthermore, congratulations to DGR-Crosley and the #17 team on their achievements this year.