NASCAR: All-Star Race location changing?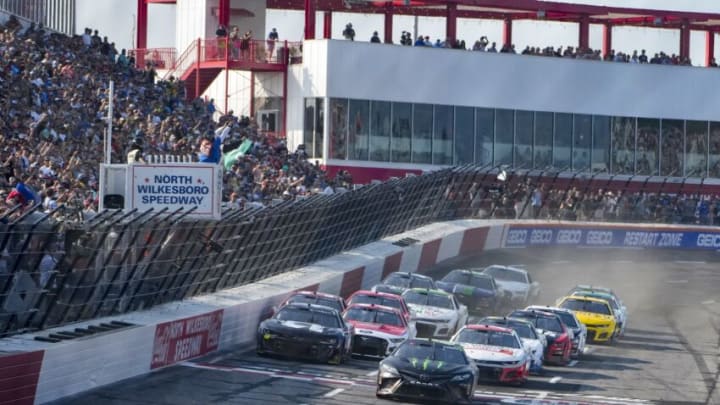 NASCAR, North Wilkesboro, All-Star Race - Mandatory Credit: Jim Dedmon-USA TODAY Sports /
The NASCAR All-Star Race has recently seen several location changes, and with more and more facilities vying for events, different annual locations may be the answer.
After several decades of the NASCAR All-Star Race being held at Charlotte Motor Speedway, we have begun to see several other tracks host the event, including Bristol Motor Speedway, Texas Motor Speedway, and now North Wilkesboro Speedway.
This new trend has followed a trend that has been seen in many other sports leagues with an All-Star Weekend — a rotation of different host cities/venues each year.
This pivot, which presents the possibility of new venues being able to host the race, may be the key to maintaining the event's prestige.
Considering the recent trend of "temporary" tracks, such as Los Angeles Memorial Coliseum and the Chicago Street Course, the potential for a venue similar to these playing host to the All-Star Race is not out of the question.
This year's race at North Wilkesboro Speedway was among the most anticipated events in recent memory and marked the return of a fabled venue that was one time left to wither. Even if the overall racing product wasn't the best we've seen this year, the overall atmosphere and significance of the event made it a smashing success.
But as Speedway Motorsports CEO Marcus Smith mentioned Sunday, there is a possibility that North Wilkesboro Speedway ends up hosting a points race next season.
Could NASCAR move the All-Star Race to a different venue once again?
They would have plenty of options to choose from should they opt to do so, which opens up the possibility of rotating locations annually. It could be a very smart move for the sport, giving them new ways to spread their brand if they play their cards right.
Considering the gimmicks that have often come with the All-Star Race, this type of an event may be the best fit for a "temporary track", much like the annual Clash at Los Angeles Memorial Coliseum.
But even outside of the temporary tracks, there are still a large number of permanent venues that are vying for a race weekend, and the All-Star Race could act as a "test" to see what product the potential new tracks produce with the Next Gen car. Should that product be received positively, the All-Star Race could act as a "bridge" for new tracks to find their way onto the Cup Series schedule.
Think of tracks such as Rockingham Speedway, Nashville Fairgrounds Speedway, and Iowa Speedway.
There are plenty of other possibilities to consider. With NASCAR's newfound push to add more short tracks to the schedule, the All-Star Race having its smaller field opens up even more possibilities, which otherwise couldn't host a full 36-car event.
The most notable of these venues is Bowman-Gray Stadium. Despite not hosting any of NASCAR's three top series, the track has become well-known among fans due to its quintessential "short track racing" product. It produces lots of bumping and banging, and of course, the occasional fight.
The quarter-mile track may simply not be large enough to host a full 36-car Cup field. But a smaller 20 to 25-car field with $1 million on the line? That may make Bowman-Gray Stadium a perfect fit for the event.
Even aside from potential new tracks, there are other tracks already on the schedule that could host the event for a year. A track such as Las Vegas Motor Speedway could be a great option. Sin City would almost certainly provide plenty of publicity for the event and NASCAR as a whole.
But nonetheless, the fabled North Wilkesboro Speedway is back, and should it land a points race next season, NASCAR has a lot of options for the All-Star Race moving forward.