IndyCar: The elusive title Josef Newgarden is still chasing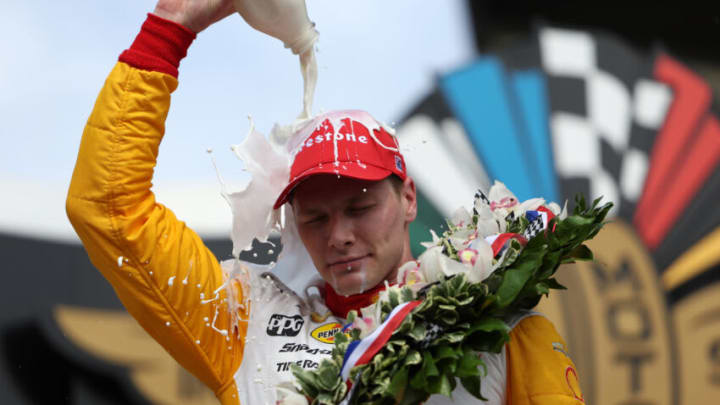 Josef Newgarden, Team Penske, Indy 500, IndyCar (Photo by James Gilbert/Getty Images) /
Josef Newgarden finally checked the final box by winning this year's Indy 500. But there is still something the two-time IndyCar champion has yet to achieve.
2011 Indy Lights champion Josef Newgarden has been fast since the day he arrived in IndyCar. While it didn't necessarily show in the results straight away, given that his rookie season produced a total of zero top 10 finishes (and a maiden front row start ending in the turn one barrier), his potential was always there.
It didn't take a move to Team Penske for Newgarden to show what he is capable of. CFH (Carpenter Fisher Hartman) Racing formed in 2015 when the Sarah Fisher Hartman Racing team he had competed for from 2012 to 2014 merged with Ed Carpenter Racing.
In that team's only season of IndyCar competition, Newgarden scored his first two wins, led more laps than anybody in the field, and remained mathematically in championship contention until the checkered flag flew in the season finale.
The following year, Newgarden drove for Ed Carpenter Racing. In his one and only season under that banner, he won the IndyCar oval championship, highlighted by a front row start and third place finish in the Indy 500, plus arguably the most dominant oval win of this era at Iowa Speedway. He overcame a devastating crash at Texas Motor Speedway to pull off that title.
Newgarden's success at Team Penske, the organization he joined in 2017, has put him in the discussion as potentially the best driver of this generation, and it has certainly elevated him into the discussion of top 10 drivers of all-time.
While road and street courses have dominated the calendar in recent years, 13 of Newgarden's 25 most recent wins have come on ovals.
Yet Josef Newgarden has shockingly not won an oval championship since joining Roger Penske's IndyCar team, which is a bit mind boggling.
Newgarden, who has 27 career wins to his name, has won two IndyCar championships (2017 and 2019) and two road course championships (2017 and 2020) since joining the team as the driver of the No. 2 (No. 1 as reigning champion) Chevrolet six seasons ago, yet the series' best oval driver is still seeking an oval title in the Captain's machinery.
If not for a shock failure in the closing laps of the second race of last year's Iowa Speedway doubleheader, Newgarden would be on a five-race oval winning streak, having won every race at a track with strictly left turns in the last calendar year. He would have seven wins in the last eight oval races going back to 2021.
It's a streak you'd expect to see Max Verstappen pull off in Formula 1, not necessarily something you'd expect to see in the most competitive racing series on the planet.
"Oh my gosh – I didn't even know that was like – that's a crazy stat!" the most recent Indy 500 champion told Beyond the Flag when presented with that statistic. "Wow. I didn't realize it was – like, I knew we won a lot of ovals recently, but I didn't think it was that many in a row. I'm sorry, I didn't mean to harp on that. I just – that's a cool stat!"
Can 2023 finally be the year Josef Newgarden wins the IndyCar oval championship for Team Penske?
Interestingly, what hasn't helped Newgarden in recent years is the fact that the Indy 500 is a double points race. Take 2021, for instance, when he finished in 12th place, while eventual oval champion Pato O'Ward of Arrow McLaren finished in fourth.
The 2022 season is another great example. The Hendersonville, Tennessee native won three of five oval races, but a 13th place finish, compared to O'Ward's second place effort, resulted in O'Ward winning a second consecutive oval title.
Now, ironically, the Indy 500 is no longer a double points race, and Newgarden goes out and wins it with the third ever last-lap pass for the victory. Fitting, right?
But he is still in a great position. He also won the oval opener at Texas Motor Speedway back in April, so he is a perfect two for two to start the 2023. He owns a 23-point oval points lead over Chip Ganassi Racing's Alex Palou, the actual championship leader, with three oval races — all short oval races — left on this year's schedule.
The remaining schedule should play to Newgarden's advantage. He is a four-time winner at both Iowa Speedway, which is scheduled to host two races this weekend, and at World Wide Technology Raceway at Gateway, which is scheduled to host the oval finale in August.
He is the three-time reigning winner at the latter, and he would be the three-time reigning winner at the former — and thus a five-time winner overall — if not for the aforementioned shock failure.
The last time he did not win at both of these tracks in the same season when both were on the schedule? 2019.
Two of the final three oval races on the 2023 IndyCar schedule are scheduled to take place at Iowa Speedway this weekend. The Hy-Vee Homefront 250 presented by Instacart is set to take place at on Saturday, July 22, and the Hy-Vee One Step 250 presented by Gatorade is set to take place on Sunday, July 23.
Both races are set to be broadcast live on NBC, with the first at 3:00 p.m. ET and the second at 2:00 p.m. ET. Begin a free trial of FuboTV now and don't miss any of the action!