IndyCar will have true test of the Indy 500 'hangover'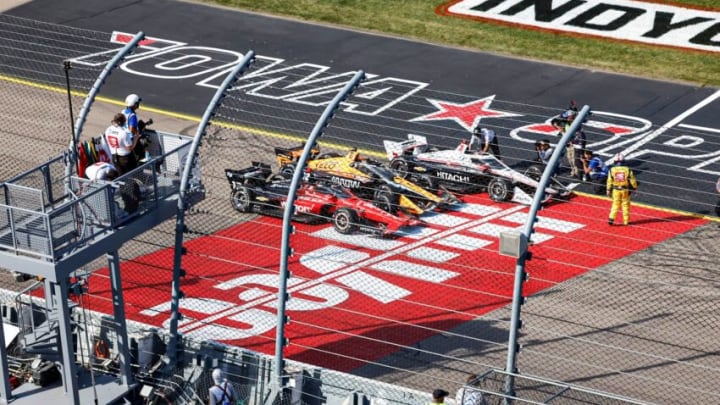 Josef Newgarden, Team Penske, Iowa Speedway, IndyCar (Photo Credit: The Des Moines Register) /
No driver has won the Indy 500 and the IndyCar championship in the same season since 2010, but this weekend will be arguably the best test of a true Indy 500 "hangover".
You have to go back to Dario Franchitti in 2010 to find the last time a driver won both the Indy 500 and the IndyCar championship in the same season, despite the fact that a majority of Indy 500 winners since then are IndyCar champions, and the fact that a majority of series champions since then are Indy 500 winners.
There is a belief that, because of everything that comes with winning the Indy 500, there is an "Indy 500 hangover" that the race-winning drivers end up going through.
"All I'm focused on right now is how do we not have the Indy 500 hangover that everybody sort of gets," Indy 500 winner Josef Newgarden told Beyond the Flag the week after earning the biggest win of his career back in May.
"I don't want to fall into the trap where if you don't win the championship, it's kind of an okay year because you won the 500. People kind of rest on that, and I don't want to get comfortable in that situation. I really want us to focus on how we get both done."
More than likely, that championship drought will continue into 2023, with Newgarden, a two-time series champion, currently trailing Chip Ganassi Racing's Alex Palou by 126 points in the championship standings with seven races remaining on the 17-race schedule.
However, Newgarden can still break a recent trend of the "Indy 500 hangover" at a track where he has been dominant for pretty much his entire career.
At Iowa Speedway, the IndyCar driver tier list is simple. There's Josef Newgarden, and then there's everybody else.
Newgarden has led 1,506 of the last 2,550 laps at the track, including 1,112 of the last 1,650. He has led at least 100 laps in seven of the last nine races there and at least 200 in five of those seven.
Last year, the "king of corn country" was on his way to sweeping the doubleheader and becoming a five-time winner — and three-time reigning winner — at the four-turn, 0.894-mile (1.439-kilometer) Newton, Iowa oval before a shock failure near the end of the race. That shock failure mathematically ended up costing him a third championship.
There is little reason to believe that Newgarden won't be the betting favorite to win both races at Iowa Speedway this weekend. He topped the speed chart in Friday's practice session, he is two for two to start the season in oval races, and if not for that shock failure, he would have won every oval race in the last calendar year — and be on a five-race oval win streak.
He would have won seven of the last eight oval races, which is more along the lines of a Max Verstappen Formula 1 streak than one you'd find in the most competitive racing series in the world, and his primary strength has been short ovals.
Not even he could believe that stat.
"Oh my gosh – I didn't even know that was like – that's a crazy stat!" he exclaimed. "Wow. I didn't realize it was – like, I knew we won a lot of ovals recently, but I didn't think it was that many in a row. I'm sorry, I didn't mean to harp on that. I just – that's a cool stat!"
While there's always a chance that Team Penske's strength at the short ovals won't be what it has been in recent years — or that another team or teams will have simply caught up — Newgarden's track dominance didn't just start when he moved to Team Penske.
In 2016, just two races after suffering a broken collarbone in a nasty crash at Texas Motor Speedway, he put on arguably the most dominant oval performance of this era at Iowa Speedway, scoring his first ever oval win after recording back-to-back runner-up finishes at the track in 2014 and 2015. Driving for Ed Carpenter Racing, he led 282 of 300 laps and nearly had the entire field a lap down at one point.
So there is no better way to test the Indy 500 hangover than by assessing Josef Newgarden's performance this weekend at his best track.
From 2011 to 2022, they Indy 500 winners have combined to win three more races in their Indy 500-winning seasons. Think about that stat. Just 25% of Indy 500 winners in the last dozen years have gone on to win a single additional IndyCar race the year they won the "Greatest Spectacle in Racing". Even excluding part-time drivers who won the race, the number is only 30%.
Ryan Hunter-Reay won one more race in 2014, Will Power won one more in 2018, and Simon Pagenaud won one more in 2019. That's it. No driver has won gone on to win more than one more since Franchitti won two more en route to winning the 2010 title.
It seems like the line "if anybody can do it, this guy can" comes up more often than not when it comes to the Indy 500 champion potentially overcoming this "hangover".
But the reality is that they're all more than capable of doing it — they are, after all, Indy 500 winners — and it simply hasn't been done, not even in the Indy 500's 10-year "double points" era from 2013 to 2022.
Some fans have even joked that perhaps Rinus VeeKay's Indy 500 collision with Palou in the pits, which mired the polesitter back in 30th place before he rallied to finish in fourth, paved the way for Palou to emerge as the prohibitive championship favorite.
Palou still scored good points in the Indy 500 — tied for second behind Newgarden, in fact, thanks to his record-breaking pole position — and didn't have to deal with everything that comes along with being the newest Indy 500 champion afterward.
Refreshed and ready to race, he went on to win the next three races in a row to build up a massive championship lead, putting himself in position to potentially become the first driver to clinch the IndyCar title before the season finale since Dan Wheldon won it in 2005.
It took four races and seven weeks after the Indy 500 for a driver other than Palou to stand atop the podium, when Rahal Letterman Lanigan Racing's Christian Lundgaard won on the streets of Toronto.
Can Newgarden do what he usually does in this weekend's Iowa Speedway doubleheader and end this supposed Indy 500 hangover — even if he doesn't go on to win his third championship this year?
Both the Hy-Vee Homefront 250 presented by Instacart and the Hy-Vee One Step 250 presented by Gatorade are set to be broadcast live from Iowa Speedway on NBC this weekend, with the former set for 3:00 p.m. ET on Saturday, July 22, and the latter set for 2:00 p.m. ET on Sunday, July 23. Begin a free trial of FuboTV today and don't miss either race!