Formula 1: Max Verstappen unlocks new achievement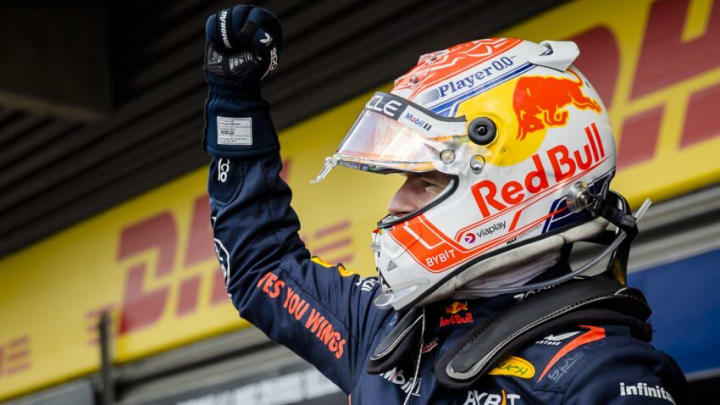 Max Verstappen, Red Bull, Formula 1 (Photo by ANP via Getty Images) /
Max Verstappen is playing the 2023 Formula 1 season on easy mode and has now "unlocked" another new achievement in Sunday's Belgian Grand Prix.
Sunday, July 30 marked three months since a driver other than two-time reigning Formula 1 world champion Max Verstappen won a race, and it ensured that that streak will extend even at least another four weeks.
Verstappen took the pole position for Sunday's 44-lap race around the 19-turn, 4.352-mile (7.004-kilometer) Circuit de Spa-Francorchamps road course in Stavelot, Belgium by nearly a full second, but he was forced to start in sixth place as a result of the fact that he had exceeded his gearbox allowance.
That penalty did not prevent Verstappen from taking the lead from teammate Sergio Perez shortly after the first round of pit stops, and while he was told on the radio by race engineer Gianpiero Lambiase "not this time" when he mentioned the possibility of pitting for the fastest lap and getting the team some extra pit stop practice, he had opened up the gap to do it.
Verstappen's Belgian Grand Prix victory is his eighth in a row, putting him one shy of Sebastian Vettel's all-time record from 2013, and it is his 10th through the first 12 races of the season. Including sprint races, he has now finished 10 straight races in P1.
It is Max Verstappen's 11th win in 13 races going back to the end of the 2022 Formula 1 season, and he has finished no worse than second place during that stretch.
To put that in perspective, for as dominant as Lewis Hamilton was with Mercedes in the early turbo hybrid era, he never won more than 11 races over a full season.
With the win, which was the 45th of his career, Verstappen has now matched a record that had been held by fellow two-time world champion Fernando Alonso. Verstappen has now won from nine different grid slots, with sixth place being the latest addition to that list.
In a season that, from Verstappen's perspective, has largely resembled what it would be like to play F1 2023 on easy mode, it's another achievement unlocked for the 25-year-old Dutchman, who continues to be in a league of his own following yet another victory of over 20 seconds — and after not starting in P1.
For as strong as the RB19 has been, Sunday's race marked only the second time during Verstappen's eight-race win streak that Perez has finished runner-up.
Verstappen's win also made the 2023 season his third straight season with double digit wins, tying the all-time record Hamilton set from 2014 to 2016 and matched from 2018 to 2020. No other driver has even recorded back-to-back seasons of 10 or more wins.
Now Formula 1 is set for the summer break, with action scheduled to resume at Verstappen's home track, Circuit Zandvoort, on Sunday, August 27. Verstappen won the Dutch Grand Prix upon its return to the calendar in 2021, and he won it again in 2022. A third home win in a row would give him nine straight Grand Prix wins, which would match Vettel's record.
The Dutch Grand Prix is scheduled to be broadcast live on ESPN beginning at 8:55 a.m. ET on Sunday, August 27. Begin a free trial of FuboTV now and don't miss it!