IndyCar: New Marcus Ericsson deal already done?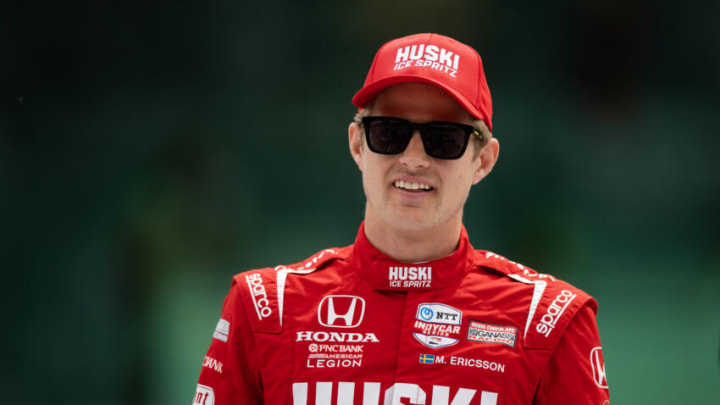 Marcus Ericsson, Chip Ganassi Racing, IndyCar - Mandatory Credit: Mark J. Rebilas-USA TODAY Sports /
Given the history of Marcus Ericsson's management team, it would not be surprising if he already has a deal lined up for the 2024 IndyCar season.
Despite having their three full-time drivers all sitting in the top four in the IndyCar championship standings, Chip Ganassi Racing have long known that they could be facing a significant problem in this year's silly season/free agency period.
2021 champion and points leader Alex Palou tried to leave the team after the 2022 season, only for a legal battle to result in him returning for a third year behind the wheel of the No. 10 Honda, and many believe that he will depart for McLaren — most likely the Arrow McLaren IndyCar team — after the 2023 season, even if he wins another championship.
Then there is 2022 Indy 500 winner Marcus Ericsson, who came closer than anybody to winning the "Greatest Spectacle in Racing" in back-to-back years since Helio Castroneves pulled it off in 2001 and 2002.
Marcus Ericsson is a driver who brings funding, but as an Indy 500 winner and perennial IndyCar championship contender, he wants to be treated (paid) like a top driver.
However, Chip Ganassi Racing have made clear that they would like him to continue to bring funding, which may not be possible after 2023. Long-time backer Finn Rausing is said to be done bringing sponsorship for Ericsson's No. 8 Honda when the current season concludes.
There have been no indications that Ericsson and Chip Ganassi Racing are any closer on a new deal for 2024 than they were two and half months ago, when Chip Ganassi snapped at a reporter's question about the matter on Fast Friday at Indianapolis Motor Speedway.
Is it possible that Ericsson could have a deal done elsewhere already?
We all know that there are dates which drivers must abide by when it comes to when they are and are not allowed to speak to other teams about rides for the following season. That date for Ericsson is said to be August 1.
According to my calendar, that is today.
Think back to 2019 for a second, when Arrow Schmidt Peterson Motorsports and McLaren turned silly season on its ear by announcing a partnership for the 2020 season which would see the existing SPM team switch from Honda to Chevrolet and be rebranded as Arrow McLaren SP.
There was confusion over where James Hinchcliffe, a long-time SPM and Honda driver, would end up. Hinchcliffe himself posted that he was excited to move back to Chevrolet and compete for Arrow McLaren SP, and with carefully worded statement after carefully worded statement, the team did not deny that he would be with the team in 2020.
Ericsson, like Hinchcliffe, was competing for Arrow SPM at the time. But rather than waiting around for Arrow McLaren, a team now heavily influenced by an organization heavily involved in the Formula 1 world from which Ericsson had just departed one year prior, to inevitably announce his replacement, the Swede's management team began seeking out new opportunities.
So while the announcement itself might have been surprising to some, it was not a huge shocker when it was confirmed that Ericsson would be driving a funded No. 8 Honda for Chip Ganassi Racing in 2020, a ride that had not been a part of the team's stable in 2019.
Meanwhile, the confusion surrounding Hinchcliffe ultimately left him without a ride for 2020, with Pato O'Ward and Oliver Askew named Arrow McLaren SP's two drivers. Only later did he announce a part-time schedule with his former Andretti Autosport team.
Is there any reason to believe that this year is any different from 2019 on Ericsson's side?
There are quite a few quality rides open throughout the IndyCar paddock. Will Ericsson and his management team be waiting around for Chip Ganassi Racing, only to find out that his services cannot be afforded by the team, or are they already ahead of the game with a new deal lined up for the 32-year-old to drive, say, the No. 28 or No. 29 Honda at Andretti Autosport?
On the flip side, Ganassi also knows when Ericsson can and cannot talk to other teams, so he would have no reason to make any big announcements before then anyway. But all indications point to the two sides continuing to be far apart, which could set off a massive chain reaction that has seemed inevitable for the last several months.