IndyCar changes Nashville schedule due to bad weather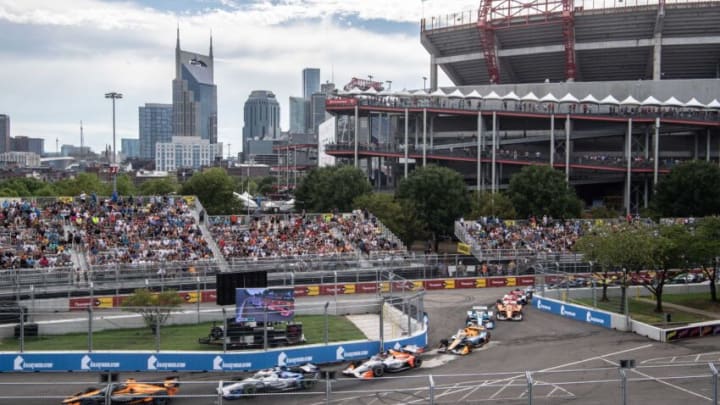 IndyCar, Nashville (Photo Credit: The Tennessean) /
IndyCar has been forced to alter the parts of the schedule for the race weekend on the streets of Nashville due to wet weather.
Due to inclement weather, Saturday afternoon's IndyCar qualifying session at Nashville Street Circuit for Sunday afternoon's Big Machine Music City Grand Prix was not able to take place as planned.
Drivers were set to qualify for Sunday's 80-lap race around the 11-turn, 2.17-mile (3.492-kilometer) temporary street circuit in Nashville, Tennessee at 1:45 p.m. ET, but the wet track conditions resulted in those plans being scrapped.
The conditions were worse than they were during the second practice session, which also saw a wet track on Saturday morning.
As a result, the IndyCar qualifying session was pushed back to 6:15 p.m. ET.
Peacock, the exclusive home for all IndyCar practice and qualifying sessions, is still set to provide live coverage from Nashville on Saturday evening — or whenever the weather is good enough for the session to take place. The stream can be accessed with a subscription to Peacock Premium or Peacock Premium Plus.
The final practice session for Sunday's race had been scheduled for 5:25 p.m. ET on Saturday evening, but it has since been removed from the schedule as a result of the delayed qualifying session.
Given the early Sunday afternoon start time, coupled with the Jay DeMarcus worship concert, the Indy NXT race, and IndyCar pre-race ceremonies, there was and is still no morning warm-up on the schedule for Sunday.
Chip Ganassi Racing's Marcus Ericsson, the inaugural race winner from 2021, topped the speed chart in Saturday morning's wet practice session. Team Penske's Will Power topped the speed chart in yesterday's lone practice session.
NBC is set to broadcast the Big Machine Music City Grand Prix live from Nashville Street Circuit beginning at 12:00 p.m. ET on Sunday afternoon. If you have yet to begin a free trial of FuboTV, do so today!