NASCAR: Race winners at risk of missing the playoffs?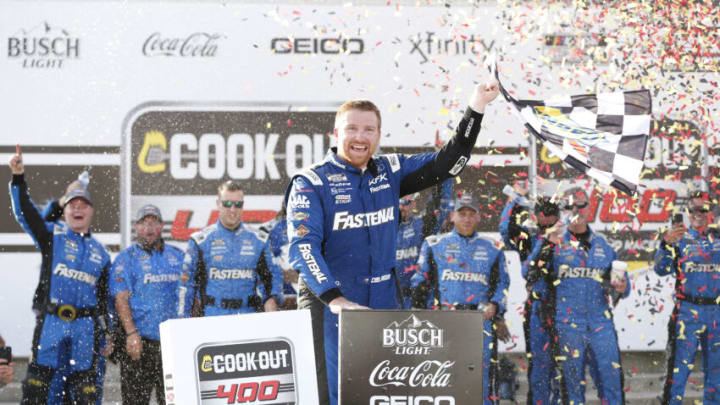 Chris Buescher, RFK Racing, NASCAR - Mandatory Credit: Amber Searls-USA TODAY Sports /
There is still technically a scenario in which a race winner will miss the NASCAR Cup Series playoffs, but we're probably more likely to see pigs fly.
When RFK Racing's Chris Buescher took the checkered flag to win Sunday afternoon's Cook Out 400 at Richmond Raceway, he became the 12th different playoff eligible to find victory lane in the 2023 NASCAR Cup Series season, leaving four spots open in the provisional playoff picture.
The win was the third of Buescher's career and his second in the last calendar year. Amid RFK Racing's resurgence after adding 2012 series champion Brad Keselowski as both a full-time driver and a team co-owner ahead of last season, Buescher has now won twice.
His first win behind the wheel of the No. 17 Ford came at Bristol Motor Speedway last September, when he ended a win drought that had dated back to August 2016 when he won a rain-shortened race at Pocono Raceway as a rookie for Front Row Motorsports.
With just four races remaining on the 2023 NASCAR Cup Series schedule, common sense would suggest that the winners are all locked into the playoffs.
I'm not going to sit here and tell you they're not. But if you want to get technical, there is still a mathematical chance that one of the single-race winners misses the postseason, even if that chance is less than 0.00001%.
Let's say the final four races produce four different winners, bringing the playoff eligible driver total to 16 ahead of the 16-driver playoffs. Logic would suggest that those 16 drivers get into the playoffs, but that isn't necessarily true.
The 16 playoff spots are awarded to the regular season champion and the 15 drivers who rank next highest in wins. So if there is a winless regular season champion, there would be 17 playoff eligible drivers for 16 spots, in which case the single-race winner who ranks lowest in points would be left on the outside looking in.
JTG Daugherty Racing's Ricky Stenhouse Jr. is currently the lowest placed single-race winner in the point standings in 14th place.
Fortunately for all of the single-race winners, this should not be much of a concern. In fact, it shouldn't be a concern at all.
The top five drivers in the point standings are all race winners. The highest ranking non-winner is Stewart-Haas Racing's Kevin Harvick in sixth place, and he is 110 points out of the lead.
Suffice it to say that there won't be a winless regular season champion this year, meaning that the "win and in" concept should once again hold true, even if we can't absolutely say that somebody such as Buescher is 100% locked in yet.
FanDuel Sportsbook, which is offering fans an instant $100 just for placing a $5 bet, lists Joe Gibbs Racing's Martin Truex Jr. as the +400 favorite to win this year's championship.
Here are the current favorites to win the 2023 NASCAR Cup Series title.
Odds and availability are subject to change. Lock in your $100 payday while you still can!
Michigan International Speedway is scheduled to host the 23rd race of the 2023 NASCAR Cup Series season this Sunday, August 6. Will a 13th different playoff eligible winner emerge in the FireKeepers Casino 400? USA Network is set to broadcast the race live beginning at 2:30 p.m. ET. Begin a free trial of FuboTV today if you have not already had the chance to do so!