Formula 1: New young American emerging for Andretti seat?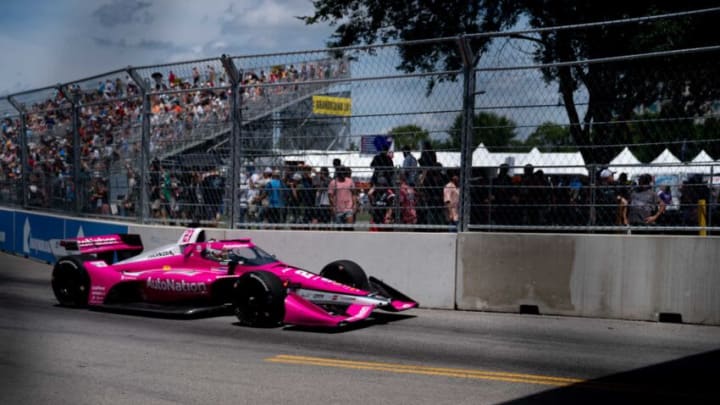 Kyle Kirkwood, Andretti Autosport, IndyCar (Photo Credit: The Tennessean) /
Colton Herta has long been viewed as a likely Andretti Formula 1 driver if Michael's team is approved. But is Kyle Kirkwood also emerging as a candidate?
Andretti Autosport IndyCar driver Colton Herta was rumored to join Formula 1 as early as the 2022 season amid rumors that team owner Michael Andretti was looking to acquire the Sauber-run Alfa Romeo team.
When that didn't pan out, the Californian was then linked to the AlphaTauri seat alongside Yuki Tsunoda for the 2023 season. But his shortage of FIA Super License points ultimately prevented that deal from coming to fruition, and Nyck de Vries, who has since been replaced by Daniel Ricciardo, ultimately landed in that seat.
As speculation heats up that the Andretti Cadillac team could be approved to join Formula 1 for the 2026 season in the coming months or even weeks, corresponding speculation surrounding Herta making the move from IndyCar and Formula 1 has also been reignited.
Herta has long been seen as a shoo-in for the Andretti Formula 1 team, given his status as a seven-time IndyCar race winner and an 11-time polesitter at the age of just 23 years old. He also signed a contract extension to remain with Andretti's organization through 2027 back in October 2022.
But there have been recent questions about his consistency, lack of execution, and, generally speaking, an error-proneness that has taken him out of contention from race wins on numerous occasions. He has not won a race since singing his extension, with his most recent victory having come in May 2022.
Barring an improvement in consistency, is he really right for a Formula 1 team looking to make a name for themselves on an expanded grid?
While there is still plenty of time for Herta to change the narrative and re-emerge as a title contender, those questions have been compounded by the instant success of first-year teammate Kyle Kirkwood, who earned his second win of the 2023 season on Sunday afternoon on the streets of Nashville, Tennessee.
Kirkwood, the team's lone winner of 2023, has also struggled with consistency throughout his first year behind the wheel of the No. 27 Honda, but his collection of poor results has largely boiled down to Andretti Autosport's lack of execution as opposed to silly mistakes.
Following his Nashville win, which saw him lead the most laps after starting in eighth place, Andretti Autosport's 2021 Indy Lights champion is the team's top driver in ninth in the IndyCar championship standings.
Depending on what happens the next two-plus IndyCar seasons, could Andretti consider taking Kyle Kirkwood to Formula 1 in 2026?
After the 24-year-old dominated on the streets of Long Beach in April from the pole position, securing his first career win in just his third start with his current team, Andretti was asked whether or not Kirkwood was now his preferred driver to take to Formula 1 (over Herta), to which he replied, "no comment".
Kirkwood has not confirmed nor denied an interest in competing in Formula 1. But after his Nashville victory, Andretti described him as a "complete driver", which is something that the team have lacked in recent years.
While the Long Beach win was impressive, it was the Nashville win which proved that Kirkwood is more than just a one-hit wonder and that the sky is his limit.
Kirkwood, whose contract with his current team at the end of the 2024 season, has recently been linked to Team Penske as Will Power's replacement ahead of the 2025 season, meaning that it would be in Andretti's best interest to get a contract extension done with him sooner rather than later.
Sunday's win, plus the fact that he sits second among all drivers in street course points this season behind only championship leader Alex Palou, should hopefully help to expedite that process, not only due to Andretti's desire to lock up his young driver long-term, but due to Kirkwood's desire to capitalize on the fact that, yes, this team can execute at a high level throughout an entire race weekend.
Should a contract extension get done with the Jupiter, Florida native, the next few years leading up to Andretti's potential Formula 1 entry could become even more interesting.
Of course, Andretti could very well decide to roll with a driver currently outside of his organization for his Formula 1 team. For all we know, he could theoretically end up taking Alex Palou. But should Kirkwood continue to perform at a high level and do so on a more consistent basis, you'd have to believe that the discussion will be had.