NASCAR changes Bristol schedule due to weather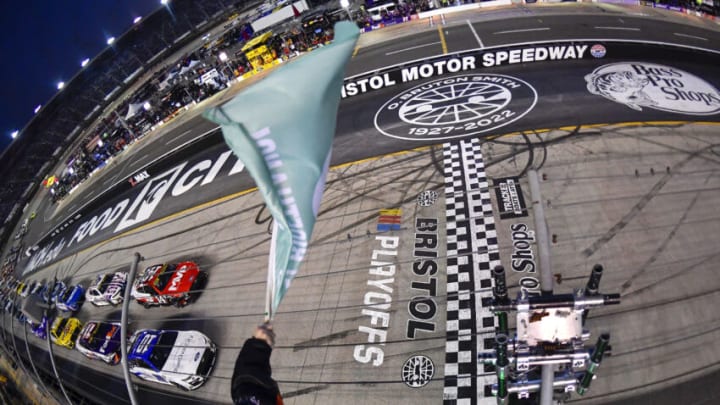 Bristol Motor Speedway, Bass Pro Shops Nights Race, NASCAR (Photo by Logan Riely/Getty Images) /
Saturday night's NASCAR Cup Series playoff race at Bristol Motor Speedway is set to start an hour earlier as a result of the threat for late-night rain.
The round of 16 of the 2023 NASCAR Cup Series driver and owner playoffs is scheduled to come to an end this Saturday evening with the Bass Pro Shops Night Race at Bristol Motor Speedway.
The 500-lap race around the four-turn, 0.533-mile (0.858-kilometer) high-banked oval in Bristol, Tennessee had been scheduled to get underway at 7:30 p.m. ET.
But due to an increased threat of rain later in the evening and NASCAR's desire to run the full distance with no weather-related interruptions, the start time has been moved up.
USA Network, not NBC, is still set to provide live coverage of the NASCAR Cup Series playoff race, but beginning at 6:30 p.m. ET.
The race is set to go green at 6:35 p.m. ET. According to The Weather Channel, there is a 24% chance of rain in the early evening, but that chance increases to 74% as the night goes on.
FanDuel Sportsbook, which is giving fans an instant and guaranteed $200 for betting $5, lists Hendrick Motorsports' Kyle Larson as the favorite to find victory lane on Saturday night. The driver of the No. 5 Chevrolet, who is already locked into the round of 12 after winning the playoff opener at Darlington Raceway, is listed at +500.
RFK Racing's Chris Buescher, who was not a playoff driver last year, is the reigning winner of the Bass Pro Shops Night Race. This season, the driver of the No. 17 Ford is in the playoffs for the first time since his rookie season in 2016 after winning three regular season races, and he is looking to punch his ticked to the round of 12 for the first time. He is listed at +1200.
Odds and availability are subject to change. Lock in your $200 now before it's too late!
Tune in to USA Network at 6:30 p.m. ET for the live broadcast of the Bass Pro Shops Night Race from Bristol Motor Speedway. If you have not yet begun a free trial of FuboTV, do so now!