NASCAR: Joe Gibbs drops a major hint about Erik Jones's future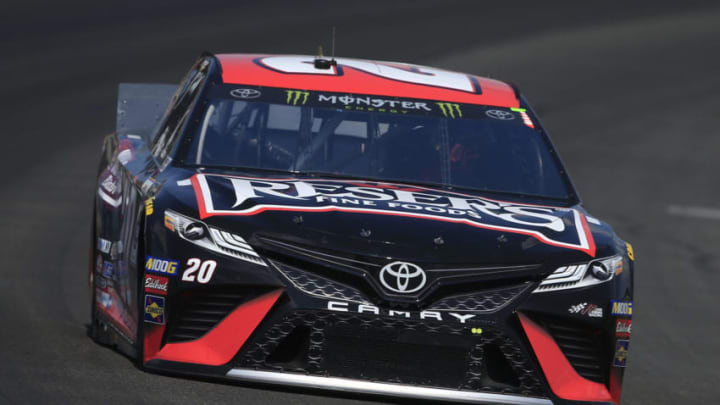 LONG POND, PENNSYLVANIA - JULY 27: Erik Jones, driver of the #20 Reser's Main St Bistro Toyota (Photo by Chris Trotman/Getty Images) /
Joe Gibbs Racing team owner Joe Gibbs hinted about Erik Jones's future with the team for beyond the 2019 NASCAR Cup Series season following the race at Pocono Raceway.
Following this past Sunday's Gander RV 400 at Pocono Raceway, Joe Gibbs Racing team owner Joe Gibbs shed some light on the situation surrounding Erik Jones, who has driven the team's #20 Toyota ever since replacing Matt Kenseth ahead of the 2018 NASCAR Cup Series season.
Jones's current contract expires at the end of the 2019 season, and there have been rumors that he may be replaced by Joe Gibbs Racing Xfinity Series superstar Christopher Bell ahead of the 2020 season.
But when he was asked about whether or not there is a timeline on a decision regarding whether or not Jones will be back behind the wheel of the #20 Toyota next season, here is how Gibbs responded, according to Jayski.
""Yeah, no, I want to say to everybody, it's so hard putting everything together. I know people get frustrated because you haven't made a decision yet on some things. But I just say this: there's sponsors involved, so many relationships involved, you're trying to get through all that and work it all out."Yeah, I think honestly that's part of Erik's world. It doesn't go easy sometimes. He knows. I keep him updated, we do. He knows we're working as hard as we can. Hopefully it will be one of those things will get put in place here pretty quick."
Amid rumors that he may be replaced by Bell, Jones has gone on a hot streak. Despite his 23rd place finish in the race at Daytona International Speedway, a race he won last year, his average finish in the last five races is a series-best 7.60.
More from NASCAR Cup Series
Jones is currently riding a three-race streak of top three finishes as well, as he finished in third place in the races at Kentucky Speedway and New Hampshire Motor Speedway before finishing in a season-high second in the race at Pocono Raceway.
As a result of this hot streak, Jones is now in a position where only three drivers have finished in the top three in more races than he has this season (six). Joe Gibbs Racing teammates Kyle Busch and Martin Truex Jr., two drivers who share the Cup Series lead with four victories each through the 36-race season's first 21 races, and Team Penske's Joey Logano, who leads the championship standings, are the only three drivers who can make this claim.
Three races ago, Jones sat in 18th place in the championship standings, two positions below the playoff cut line. Now he sits in 13th in the standings, making him the fourth driver above the cut line, and he has a 39-point margin over 17th place Jimmie Johnson of Hendrick Motorsports with five races remaining in the 26-race regular season.
Will Erik Jones ultimately sign a contract extension to continue driving for Joe Gibbs Racing beyond the conclusion of the 2019 NASCAR Cup Series season, or will the rumors that he will be replaced by Christopher Bell come to fruition? Based on what Joe Gibbs had to say, the former looks far more likely at this point.