NASCAR Cup Series: Was Kyle Busch wrong to quit at Charlotte?
Kyle Busch's NASCAR Cup Series playoff race at the Charlotte Motor Speedway roval ended prematurely. But was he wrong to quit?
Instead of waiting out the red flag period toward the end of the Bank of America Roval 400 at the Charlotte Motor Speedway roval, the third and final race of the round of 16 of the 2019 NASCAR Cup Series playoffs, Joe Gibbs Racing's Kyle Busch got out of his car and effectively quit from the race.
As a result, the 34-year-old Las Vegas, Nevada native was officially scored in 37th place, 10 laps off the lead lap in this 109-lap race around the 17-turn, 2.28-mile (3.669-kilometer) Charlotte Motor Speedway roval in Concord, North Carolina.
Busch has faced loads of criticism (again) for what was deemed a controversial move. In the past — the recent past, mind you — Busch has said and done things that are, in fact, controversial, if not borderline reprehensible.
But in this case, the criticism directed at Busch is ridiculous, and for several reasons.
Let's face if; if any other driver did this, it'd be a non-story.
But because it's Kyle Busch, he's apparently a "quitter" and a "crybaby".
On Twitter, Busch explained the decision that he and his team made about the matter before he ultimately emerged from his #18 Toyota Camry with seven laps remaining in the race.
The best Busch could have finished in this race from three laps down with seven laps remaining in the race was 36th place, which would have resulted in him scoring one point. Instead, he finished in 37th, and he still scored one point.
So he lost nothing.
Additionally, he had had a rough race up until that point, and his #18 Toyota sustained damage throughout it. He hit the barrier early in the race's third and final stage, resulting in a flat tire and a broken sway bar, and he was also forced to serve a pass-through penalty for driving through too many pit stalls. Later, he ended up coming into the pits for more repairs to further mire him multiple laps down.
So when the race was neutralized with seven laps remaining, Busch and his team decided to call it a day.
And this makes them "quitters"?
At this point, they had absolutely nothing to gain and everything to lose, including Busch's health. The temperature was roughly 90 degrees throughout the race, and inside the cars, it was roughly 120 degrees.
After three-plus hours of not just sitting in that heat but working hard at what is considered the hardest track on the schedule, why continue when there is no good reason to do so?
Look at what happened to second place finisher Alex Bowman of Hendrick Motorsports. He found himself on the ground in need of medical attention after the race, much like Busch did two years ago when this race was still contested on the Charlotte Motor Speedway oval.
But I guess it's easy for the folks sitting at home on their couch in 70-degree air conditioning, phone in hand with fingers flying on Twitter, to rip Busch as some kind of a "quitter" as they try to garner "likes" and "retweets".
Heck, Busch didn't even need to be here. He already clinched a spot in the round of 12 as a result of the playoff points with which he began the playoffs, the points he earned as a result of his 19th place finish to open up the round of 16 at Las Vegas Motor Speedway and the points he earned as a result of his second place finish in the race at Richmond Raceway.
His goal for this race was to win the stages and to win the race, thus collecting as many playoff points as possible (seven).
Keep in mind, the guy won a championship from 20th place in the point standings. Why? Because NASCAR gave him a playoff waiver after he missed the 36-race 2015 season's first 11 races due to injuries. Busch theoretically didn't even need to compete in the round of 16 finale, assuming he'd have been given a playoff waiver — and any other assumption at this point would be far-fetched.
Or, he could have simply started the race and been done after one lap.
The difference between him finishing in 36th and 37th place was irrelevant, and that was the only thing left on the table for him in this race, aside of further damaging his car, negatively affecting his health and serving as nothing more than a road block for other drivers still actually competing for something.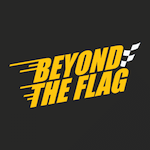 Want your voice heard? Join the Beyond The Flag team!
Write for us!
There was nothing wrong with Kyle Busch removing himself from the NASCAR Cup Series playoff race at the Charlotte Motor Speedway roval with seven laps remaining given the situation, and I will reiterate that had it been somebody other than the much-despised Busch who did so, we probably never would have even heard about it.