NASCAR: An important lesson taught by the round of 12
An important lesson was taught in the round of 12 of the 2019 NASCAR Cup Series playoffs, as three drivers who experienced mechanical issues in the opener all advanced to the round of 8.
At Dover International Speedway, mechanical issues left three of the 12 drivers who entered the round of 12, the second round of the four-round, 10-race 2019 NASCAR Cup Series playoffs, still championship eligible below the round of 8 cut line.
Team Penske's Joey Logano finished in 34th place after a busted rear axle sent his #22 Ford to the garage before the race even got started. He ended up completing 375 of the 400 laps around the four-turn, 1.0-mile (1.609-kilometer) high-banked Monster Mile oval in Dover, Delaware.
Hendrick Motorsports' Chase Elliott saw his race end after completing only eight laps, as an engine failure sent his #9 Chevrolet to the garage. He was officially scored in 38th place, marking only the second last place finish of his career.
Team Penske's Ryan Blaney was running toward the front of the pack for much of the race, but his day came to an end early with a suspension issue in his #12 Ford. He was officially scored in 35th place.
But despite the fact that all three of these drivers were faced with mechanical issues in one of only three races in the round of 12, they all found a way to advance to the round of 8. Blaney did so by winning the second race of the round of 12 at Talladega Superspeedway while Logano and Elliott did so on the strength of their point totals. They finished the round in fifth and sixth place in points, respectively, and seventh and eighth in the playoff picture.
After the race at Dover International Speedway left these three drivers below the round of 8 cut line, I outlined in an article about what would wouldn't see from Team Penske and Hendrick Motorsports had any one or more of these three drivers failed to advance to the round of 8.
What we wouldn't see out of these two teams was an appeal asking NASCAR to reinstate them after being eliminated, much like the one we saw from ThorSport Racing in the Truck Series after engine failures eliminated two of their three drivers from the playoffs at the end of the round of 8.
Technically, I wasn't proven "right", as all three drivers ended up advancing to the round of 8 anyway. With that being said, I guarantee team owners Rick Hendrick and Roger Penske would have accepted these drivers not advancing had they not advanced.
In fact, Blaney's victory at Talladega Superspeedway that ultimately moved the cut line up by one position. Team Penske's Brad Keselowski finished the round of 12 in the top eight in points, but because Blaney, who finished below him, won that race, Keselowski failed to advanced.
No complaints from "The Captain".
At Las Vegas Motor Speedway in the round of 8 finale of the Truck Series playoffs, engine issues eliminated all three ThorSport Racing drivers from contention. With six transfer spots to the round of 6, Matt Crafton still advanced, but Grant Enfinger and Johnny Sauter did not.
This is what ultimately led to ThorSport Racing's appeal, in which they stated that they were "eliminated from the playoffs and it was none of our doing".
But they could have won one of the first two races of the round of 8. They could have accrued more stage wins and more race wins throughout the regular season to enter the playoffs in a much more favorable position from a points perspective.
They didn't do either.
Just a few weeks later in the Cup Series playoffs, Logano, Elliott and Blaney proved the whole "none of our doing" theory wrong.
Unlike ThorSport Racing, Logano, Elliott and Blaney — all three of them, not just one or two of them — proved that issues that were "none of their doing" were not enough to knock them down and eliminate them from the playoffs.
Of course, ThorSport Racing admittedly did have the disadvantage of having their issues happen to them in the round of 8 finale, giving them no time to bounce back.
But even with that being said, they still had two other opportunities throughout the round of 8 to minimize the threat of a potential issue ruining their playoff hopes, and they still had other opportunities throughout the regular season to accrue payoff points, just as Logano, Elliott and Blaney did.
Enfinger couldn't do it, and neither could Sauter.
I know more than anybody that the ThorSport Racing discussion is practically beating a dead horse at this point. They appealed, they lost, they moved on, and the race "in question" took place almost six weeks ago now.
I know.
But that's not the point. At the same time, there are still long-term lessons to be learned here for everyone, and the Cup Series round of 8 field illustrates that.
This situation in which all three drivers were faced with adversity in the form of mechanical issues that had nothing to do with their actual driving and yet all bounced back is perfectly illustrative of why not to utilize a victim mentality even when thrown behind the eight ball.
While the issues with which they were faced may have been "out of their doing", they still did enough with their other opportunities to put themselves in positions to advance to the round of 8 anyway.
That's just what ultimate competitors do, and racing is a sport for none other than ultimate competitors.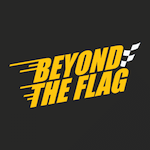 Want your voice heard? Join the Beyond The Flag team!
Write for us!
The round of 8 of the 2020 NASCAR Cup Series playoffs is scheduled to get underway this Sunday, October 27 at Martinsville Speedway in Ridgeway, Virginia with the First Data 500. The five other round of 8 drivers who are set to join Joey Logano, Chase Elliott and Ryan Blaney in this round are Joe Gibbs Racing teammate Kyle Busch, Martin Truex Jr. and Denny Hamlin, Stewart-Haas Racing's Kevin Harvick and Chip Ganassi Racing's Kyle Larson. The First Data 500 is set to be broadcast live on NBC Sports Network beginning at 3:00 p.m. ET.