NASCAR Cup Series drivers are done taking Kyle Busch's garbage
Drivers are done putting up with the entitled driving style that Kyle Busch has in some ways become known for throughout his NASCAR Cup Series career. That showed throughout Sunday's race at Watkins Glen International.
NASCAR, for better or for worse, simply wouldn't be NASCAR without Kyle Busch making headlines for something controversial.
Sunday's Go Bowling at The Glen at Watkins Glen International produced more controversy pertaining to the 34-year-old Las Vegas, Nevada native, but for the first time in quite some time, it actually involved drivers getting back at him as opposed to him pulling a disagreeable move and going on to celebrate in victory lane because of something along the lines of "pure talent".
In the first stage of this 90-lap race around the eight-turn, 2.454-mile (3.949-kilometer) Watkins Glen International road course in Watkins Glen, New York, Busch spun out in turn one trying to take second place away from Hendrick Motorsports' William Byron.
Here is a video of this incident.
https://twitter.com/NASCAR/status/1158096787787456512
Despite this spin being Busch's fault, Busch sent Byron's #24 Chevrolet off the course in the chicane before the end of stage one.
Here are two videos of this incident.
https://twitter.com/NASCAR/status/1158103451869556736
Byron, who has been taken advantage of one too many times already this season, then tried to retaliate.
Here is what Byron's crew chief, Chad Knaus, had to say about Busch on the radio.
"If I see the 18 come back here without you knocking the f*** out of him, we're going to have a problem."
But unfortunately for Byron, he damaged his own car more than he damaged Busch's #18 Toyota in his attempt at revenge, as Busch brake checked him before they made contact, as evidenced by the smoke coming out from under his tires before the contact was made.
Unfortunately for Busch, this may end up being a cause for more retaliation from Byron in the future.
Here is audio of Knaus's message and a video of Byron's retaliation attempt.
But at this point, the controversy of Busch's day was just getting started. Toward the end of stage two, Richard Petty Motorsports' Darrell Wallace Jr. ended up in the wall in the carousel.
We later found out that he had help from none other than Busch himself.
As a result, during the race's third and final stage, when Busch and Wallace found themselves running together once again, trouble ensued.
They bumped and banged with one another coming down the front straightaway, and this skirmish ended with Wallace using his #43 Chevrolet to spin Busch's #18 Toyota into turn one in front of a crowd roaring in approval.
Here are two videos of this incident.
Rubbing is racing, but Wallace made clear what he thought about Busch "racing" (wrecking) him the way he did earlier in the race and down the front straightaway. Here is what he had to say about the matter, according to NBC Sports.
"I'm going to get my respect on the track, and I don't care who it is. That's for when guys fail to think about the young guys, I guess, or with me…I won't put up with no s***.

"[He] just run me the f*** over. I don't care if I'm two years in, rookie stripes or what. So I flat out wrecked his a** back. I guess we're even. We'll see. That's what happens when you get run over. You just pay him back. So I won't be like, 'Oh, it's Kyle Busch, he didn't mean to.' F*** him."
All Busch had to say about his incidents with Byron and Wallace was "You saw it."
Nobody is going to disagree with that.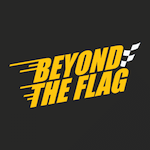 Want your voice heard? Join the Beyond The Flag team!
Write for us!
Will the disapproval of Kyle Busch among his fellow NASCAR Cup Series competitors lead to anything significant in the future, especially with him chasing his second career championship? After Sunday's race at Watkins Glen International, it wouldn't be surprising if there are more drivers who start to gang up on the driver of the #18 Toyota. He clearly isn't here to make friends, and more importantly, he isn't afraid to make it known.